by Keith Edwards
In 2006, Jill Weller, Walindwa's founder and president, made her first trip to Kenya and the Children's Centre. The trip was led by Pastor Ray Sparling and proved life-changing for Jill. While there, she felt God's call to help marginalized and abandoned children in Kenya in a larger way and began to plan a year-long mission trip to Kenya. Jill remembers, "My original dream was to teach kids how to type. When people asked what my ministry would be at the children's home, I didn't have a clear answer so that's what I told most people. Of course I didn't realize God had other plans!"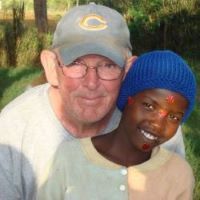 God's plans included a larger, improved home for the children and Jill began regular trips to Eldama Ravine, visiting two or three times a year. Her father, Marsh, travelled with her occasionally and became "hooked". He sponsored several children and became a friend to many of the workers at the Centre. Whenever he arrived, the children would greet him with delight and the name "Babu" (Grandpa).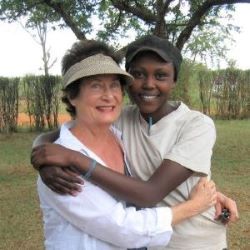 Pastor Ray Sparling actually made his first trip to Kenya in 2004 with a team from the Village Church, which led to the church choosing the Children's Home as a mission partner. Pastor Ray later introduced the project to what was then Rancho Bernardo Community Presbyterian Church and led mission trips to the site. His wife, Joyce, a high school English teacher, joined him on several trips and formed a strong connection with the children. She became passionate about their well-being and education.
Marsh Weller and Joyce Sparling both went to be with the Lord in the past few years. Marsh bequeathed a generous gift to further the mission of the Children's Centre, and Joyce's wish was for donations to be made in her memory to Walindwa. The Walindwa Board decided that the most fitting legacy for these two impactful lives would be the addition of a special learning center to the Elma Kamonong High School campus, to enhance the students' learning and computer skills. The Weller-Sparling Library & Computer Centre is currently under construction, with plans for completion this year.
The building and the teaching that will take place within it are a fitting tribute to Marsh and Joyce. The children at EBCCK, so loved by these two parents, will have even more opportunities to learn skills and knowledge that will enable them to join Kenyan society as well-educated, God-loving, young men and women.